Dear Parents,
Diograis Awards Ceremony
In GCC, we strive on a daily basis to acknowledge the efforts and contributions of students who enhance the life of the college in any way. We especially recognise excellence and effort in academic, cultural and sporting pursuits. This culminates in the annual Diograis Awards Evening, which this year, is being held on Thursday 11 May.
We wish to congratulate all students who have been nominated for a Diograis Award. This is a great achievement, and is one of which they should be proud. A list of the finalists, who will attend the ceremony on Thursday, will be on the school website on Sunday evening 7 May.
Letters of invitation will be issued on Monday to the parents/guardians of students who will attend the ceremony. Congratulations to all our students who have worked so hard to reach their potential in school this year.
GCC Summer Exams 2023 
Last week we shared links to the final timetables for our 2023 Summer House Exams. Please click on the following link to view
Parents Update Friday 28 April 2023 – Glanmire Community College (glanmirecc.ie)
This week we are also sharing Revision Guides with 1st and 2nd Year students which we hope will assist students in preparation for their exams. All teachers have been asked to go through the guide for their subject with their classes next week. Please click on the following links to view:
1st Year Revision Guide Summer 2023
2nd Year Revision Guide Summer
Transition Year – Cognitive Ability Assessment (CAT4)
Transition Year students will sit the Cognitive Ability Test (CAT4) during the week 15-19 May next. The purpose of this assessment is to update our student profiles to more accurately monitor students' academic engagement and achievement over the course of 5th and 6th Year. Please access the letter via the link below for further information and links to more detailed explanations of the CAT4.
TY CAT4 Assessment_Letter for Parents
Cork City Marathon Youth Challenge
On Tuesday 2 May, Cork City Council visited Glanmire Community College for the official press release of the Cork City Marathon Youth Challenge. The students had a great morning meeting the Cork City Council reps, who interviewed them about the Youth Challenge, and took some photographs. After the press-conference, Liam Harris (Togher AC athlete) did a running session with the students on the track. This was very warmly received by the kids who really enjoyed themselves and were delighted to meet and speak with Liam. There will be 12 students representing GCC this June bank holiday weekend in the Youth Challenge. It is a 10K race that starts and ends on Patrick Street, and coincides with the annual Cork City Marathon. This is an inaugural event for the Cork City Marathon and GCC are delighted to be a part of it. We wish all of our students the very best of luck with their preparations and training, and look forward to supporting you on the day!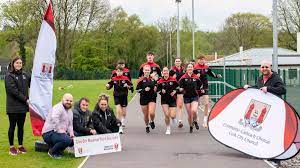 GCC Activities of the Week 
Please click on the following link to view the planned activities for the week beginning Monday 8 May 2023:
Activities of the Week Mon 8-12th May

GCC Weekly Review
Please click on the link below to read our review of the week 24 – 28 April.  Items include:
Glanmire Community College Senior Choir Competes in Choral Festival
Academic Women's Choir of Tallin University of Technology Visit from Estonia
Olympic Athlete Lizzie Lee visits GCC
Please click on the link below to read the review
Review of the Week 24 – 28   April

Reminder – GCC Strategic Planning Parents/Guardians Survey 
A final reminder to parents to please complete the Strategic Planning survey below:
GCC is committed to providing a high-quality educational experience for all its students and seeking excellence in all aspects of school life. Proper forward planning is essential to give GCC the best opportunity for sustained and continued success. GCC is in the process of developing our school improvement plan for the period September 2023 to December 2026. This plan will provide clear direction for the students, staff and management, as to the agreed priorities for the school over the coming years. As part of the plan we are seeking the input and participation of parents and guardians. Please click on the link below to complete the short survey:
https://www.surveymonkey.com/r/GCC_Parents_Guardians_2023

GCC Calendar Events 
| | | |
| --- | --- | --- |
| Date   | Event   | Time   |
| Thursday 11 May 2023 | GCC Diograis Awards Night | 7.00pm – 9.30pm |
| Monday 15 May 2023 | GCC Parents Council Meeting | @7.30pm |
| Monday 15 May 2023 | GCC Board of Management Meeting | @4.30pm |
| Tuesday 16 May 2023 | GCC Leaving Cert Graduation | 7.00p.m – 9.30pm |
We hope you have a nice weekend.
GCC Senior Management
Ronan McCarthy (Principal), Gertie Cahill (Deputy Principal), Seamus Kennefick (Deputy Principal), Sean McGrath (Deputy Principal)