Dear Parents,
Junior Cycle Results 2022
We would like to congratulate all our students who received their Junior Cycle results on Wednesday. The outstanding results of so many of our students are all the more noteworthy given the disruption to their learning through Covid. We would like to thank parents, teachers, SNA's and all in our school community who have supported the students in achieving their learning goals.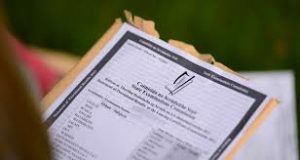 Application for Review of Junior Cycle Results 2022 (Appeals)
We have had a number of enquiries from parents, students and teachers regarding possible Junior Cycle appeals. The SEC have changed the format of the appeals process and will not accept appeal applications directly from candidates, parents or individual teachers. Applications will be accepted only from the school senior management team (SMT). Therefore, we are asking that students who wish to appeal a result(s), would speak with their Junior Cycle subject teacher in the first instance to seek advice on whether the result is a fair reflection of their performance heretofore.
For an appeal to be considered, the examination result attained by the candidate must be significantly at variance with the school's considered judgement of the performance of the candidate concerned at the examination in question. An appeal will not be submitted without consultation with the subject teacher and parents' written consent. We have asked teachers to place a brief note in the student's journal for a parent to sign before the required information is forwarded to the SMT. Where a teacher forwards a request supporting an appeal, the SMT will accept it on the basis that it is the teacher's judgement that the appeal is merited and that the parent has been notified. The subject teacher will then email the SMT with the following information for each appeal applicant:
Candidate Examination number
Candidate Name
Subject for review
Subject level.
The SMT will collate the information and scan it to the SEC no later than 5 p.m. on Wednesday 30 November 2022. We are grateful for the assistance of our teachers in ensuring that students who have valid grounds for appeals can have their cases processed.
Junior Achievement Programme
Rang Cliona recently took part in a Junior Achievement Programme Gen E (Generation Entrepreneurship) presented by Michael Twohig from Musgrave Group.  The programme ran over 4 weeks.  The students were introduced to the concepts of Design Thinking, Project Management, Marketing and Communication, valuable skills to the success of their mini companies.  All students prepared and delivered a sales pitch to Michael with mini company "Cup Clamp Co" (Fionn Barry and Tattshin Hui) winning first prize.  All students received a certificate for their participation in the program.
MEP Visit
Billy Kelleher MEP recently visited the school to meet the senior Business students as part of Junior Achievement Europe4U event.  He explained what his role as MEP involves, how the EU works and the importance of being a member of the EU.  The students got to ask lots of questions to enhance their learning on the EU.

Collin's Barracks One Brigade Brass Band Visit
On Tuesday 22 November, GCC welcomed the Band 1 Brigade from Collin's Barracks.  The thirty-one-piece wind band entertained over 300 enthusiastic GCC students.  Noel Galvin, Company Sergeant and conductor thrilled the audience with tunes from The Greatest Showman, Encanto, Shrek & Harry Potter.  Two delighted students were overheard saying, 'The music ignited a flame in my heart for music' & 'I loved the band, bring them back next year please'.  Thank you, Noel Galvin & The Band 1 Brigade.
Click here to listen to the Brass Band play Bugle Boy
Christmas Bake Off
Our Home Economics Department are looking forward to running a Christmas cookery competition once again this year. Please read the following information which outlines how to enter:
You are invited to create a festive family of gingerbread people. There will be separate Junior, Senior and Staff categories.
Date: Friday 9th December
B31 drop off point @8:30 am
Judging completed by a special guest.
Prizes to be won.
4Ukrain(Ire)
4Ukrain(Ire) is a Cork based voluntary organisation, established by former Senator John Gilroy, to respond to the deteriorating conditions in Ukraine as the Winter approaches.  They have recently returned from Ukraine where they held a series of meetings with the directors of several mental health facilities in the Kyiv region. Temperatures will fall to minus 20 degrees and electricity supply is uncertain. Patients are at real risk from the cold.  4Ukrain(Ire) have agreed to supply these hospitals with blankets, duvets, other bedding as well as winter coats. GCC has agreed to participate in the appeal by asking students to donate unused items.
Please click here for list of items to donate.
Standardization of the School Year
Please see attached Circular 0072/2022 in relation to the standardisation of the breaks at Christmas, Easter and mid-term in the first and second terms for the school years 2023/24, 2024/25 and 2025/26
Sustainability Competition
GCC students compete in environmental competition.
The Young Environmentalist Awards (YEA) is an all-Ireland environmental competition that recognizes and rewards young people who raise environmental awareness and improve the environment.
The team, consisting of 4th year students Toby Tangney, Ciara Worley, Aisling O'Sullivan and Adam Hayes, are entering the competition under the water category and their project will be based around the causes and impacts of the degrading water river quality in Ireland.
Message from Stand Up Committee
The committee would like to say a massive thank you to all our staff for their involvement in Stand Up week. Feedback from students has been extremely positive. Students appreciated staff and students wearing the ALLY badges throughout the week. Thank you to staff that incorporated more LGBTQIA+ examples into their lessons. Thank you to the students and staff in particular Ms Kiely that created the impressive display for the social area in the B Block.
The Ombudsman for Children – Survey 
The school has been asked to share the following information with students and parents:
The Ombudsman for Children needs your help to hear from all children aged between 12 and 17 (inclusive) about their mental health and mental health services in Ireland. We really need your help to make sure that as many children in Ireland as possible complete this survey. The survey closes on Wednesday 7 December at midnight.
Link to survey:  www.oco.ie/mental-health-survey
Christmas Exams 2022
Please click on the following links to view Christmas Exam Timetables below for 1st, 2nd and 5th year.
1st Year Christmas Exam Timetable
2nd Year Christmas Exam Timetable
5th Year Christmas Exam Timetable
Please click on the following link to view a Revision Guide for 1st Years which was distributed to all 1st Year students at tutorial this morning.
1st Year Revision Guide Christmas 2022
Calendar Events 
| | | |
| --- | --- | --- |
| Date | Event | Time |
| Tuesday 29 November | Staff Meeting | 4.00pm – 5.50pm |
| Thursday 1 December | Lord Mayor's visit | 10.00am – 11.00pm |
| Monday 5 December | Incoming 1st Years Subject Choice Seminar | 7.30pm |
| Tuesday 6 December | JCT Cluster Day – School closed to students | 8.50pm – 3.50pm |
| Wednesday 7 December | PPT Meeting for 5th Years | 4.00pm. – 6.45pm |
Wishing you a good weekend.
GCC Senior Management
Ronan McCarthy (Principal), Gertie Cahill (Deputy Principal), Seamus Kennefick (Deputy Principal), Sean McGrath (Deputy Principal)